Exterior Painters Sydney
Want to add some catchy or splash colours to your home exterior? Choose Marchant & Sons for your next home or office external painting job. Exterior painting is one of the great ways to freshen up your exteriors and increase the property value. Marchant and Sons provides professional, reliable and efficient exterior painting services that can attain the first and best impression of your customers.
Our main aim is to provide exceptional services from project initiation to completion. When we accept your job, first we start with pressure washing the surfaces to remove the dust and loose paint. Later we paint the services which deliver long lasting finish. We use only high quality and premium paints.We always complete our work in a professional manner from planning to implementation. Each work is completed with utmost perfection and accuracy. Marchant & Sons are experts in their field with many years of industry experience, so you can feel confident that your external painting project receives the attention it deserves.
Why Us
Marchant and Sons is the only name to transform an awful look of your home into an inspirational one. Being a symbol of creativity, style and brightness through the selfless efforts of our professional painters and decorators in Sydney. Our dedicated team wants to see you happy in a place where you live, work or shop that's why exterior painting is done with high care and perfection. Do you want to live in the most aspiring home of a locality? Do you crave for a house next to your door? Let us make your current home a dream place to live and the community will praise it a lot. People are often crazy about interior designing of the building and often ignore the exterior, which they often realize at later stages.
The Exterior of your home or office represents your likeness and the choice of style and design. So, why not to show the people your inclination towards art, architecture and modern decoration? Consult our experts to get an amazing combination of matching and contrasting colours, according to the prevailing trends and the structure you won.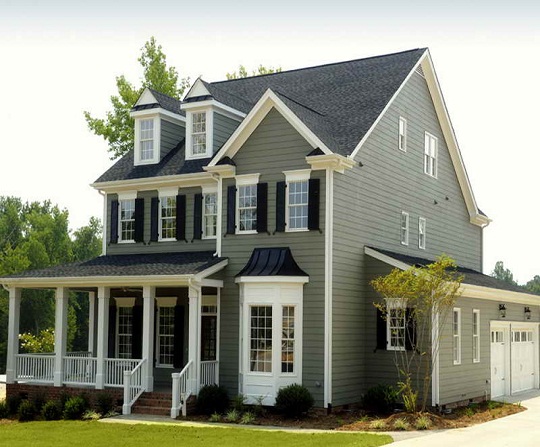 Have queries? Our team are always ready to help you
Why Choose Marchant and Sons?
We are recognized as the most influential and reliable company in the vicinity, because of our towering quality standards that are found nowhere else. Our Industrial paintersin Sydney evaluate the needs to apply the varying procedures to warehouses, production areas, central plant and the executive floors. Our fabulous services set you free from the worries of repair and maintenance. If you are unable to find a responsible entity that fulfill each and every demand of your residential or industrial interior, please feel free to try our services. Enjoy the perks attached to our expertise at affordable rates. To know more about nominal prices, you can ask a free quote as well.
Do you want your house to look lively? Do you also want to increase its value and make it look attractive? Are you fed up of constant repairs? Then hireMarchant and Sons, one of the most preferred exterior painters in Sydney. We are team of energetic and enthusiastic, professionally trained painters who serve people of Sydney and the surrounding suburbs. We have years of experience and have catered to numerous customers till date. Ours is a well established firm with a very strong reputation. Our work speaks for our quality and the superior standards we maintain. Still worried about the next exterior job at your home? Call us now to discuss the matter and seek unbiased advices of our experts. We are available of calls right now.
Enjoy the following benefits
We are the proud painters of Sydney known for meticulous services to bring an enchanting appeal in the exterior of your property. Behind our success is the unwavering effort of our painters, who always want to see the freshness and brightness outside your home. Marchant and Sons is the only name to be trusted when you are unable to hire painters in Sydney, who work as per the instructions and exceed in your expectations. Have a look at our traits, which make us proud.
Reliable and as per the instructions
Meet the highest quality standards
Efficient working staff
Free cost estimate
Admirable results
Affordable prices
Benifits of Choosing Us
Our painters pride themselves on being punctual and organized with a strong focus on being courteous with cleaning up after a day's work to minimize disruption to your daily routine and lifestyle. Let your house or commercial property stand out from the crowd and avail attention it deserves. Choose our services and make all this happen.
Competitive pricing
Outstanding results
Free quotations
Deliver high standards of work
Trustworthy and friendly
Quality workmanship
Focus on using best quality services
Expert services offered by our house painters in Sydney
We provide effective painting solutions to our customers and see to it that the work is completed well within the specified time frame and ensure that there is the least amount of disruption in the daily workings on your property. Our personnel will first understand your requirements, that is, look and feel of the house, as well as what your ideas are and provide suggestions. Our professional exterior painters in Sydney are trained to give attention to every detail and complete the work to your 100% satisfaction. Along with painting we also handle related exterior repair and maintenance work.
To hire us call, Marchant and Sons on 1300 963 091 and tell us your requirements. You can also get in touch with us via theonline form available on our website. An executive will attend to you, note down your requirements and schedule a meeting at your convenience. He'll assess the cost of refurbishing and give you a free quotation. We serve both residential and commercial customers. Employ the leading exterior painters in Sydney and give your home or commercial building an attractive look.